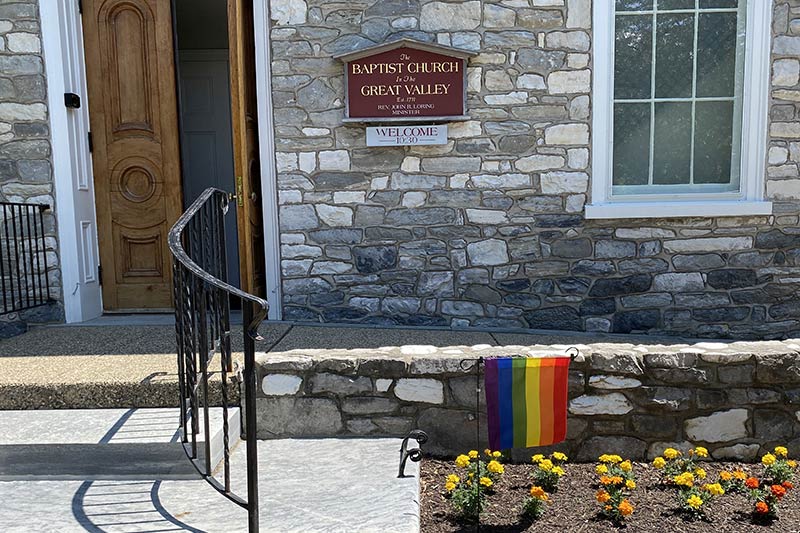 Our Rainbow Flags
The two rainbow garden flags located outside the Meeting House and by the road sign near the Scott building are symbols of our Church's support of Pride Month. Pride Month has a long history, but at its core, it is a call for greater unity, visibility and equality for the LGBTQ community, as well as a time to reflect on the milestones of the past 50 years.
Pride Month is observed in June to honor the anniversary of the Stonewall Uprising, which occurred in New York City in June of 1969. This major event marked the beginning of the fight for equality and acceptance of LGBTQ people.
In the late 1960s, being openly gay was largely prohibited in most places. New York had a rule that just the presence of someone gay or genderqueer counted as disorderly conduct. During the early morning hours of June 28, 1969, police used this rule as the reason to raid the Stonewall Inn, a club in New York City with a diverse LGBTQ clientele.
The patrons stood their ground against this use of the police to enforce discrimination, and the resulting clash led to days of riots and protests, known as the Stonewall Uprising. The uprising was a turning point in the LGBTQ rights movement, and resulted in an increased awareness around LGBTQ issues, as well as the creation of a variety of advocacy groups to address inequalities and discrimination against lesbian, gay, bisexual, transgender and queer individuals. The following year, the first Pride marches were organized to commemorate the anniversary of these events.
After being unofficially recognized for years, Pride Month was acknowledged on a federal level as "Gay and Lesbian Pride Month" beginning June 1999.
Pride Month celebrates LGBTQ culture, achievements and activism through a series of organized activities, including film festivals, art exhibits, marches, concerts and other programs. Through these efforts, the LGBTQ community and its allies also aim to increase awareness for ongoing issues of inequality as well as commemorate the lives lost to hate crimes and the AIDS crisis.
The rainbow flag is universally recognized as the symbol for LGBTQ pride. It was created by renowned San Francisco activist Gilbert Baker.
Pride Month is a vibrant and inclusive celebration that honors the LGBTQ+ community, their history, achievements, and ongoing struggle for equality. This annual event serves as a powerful reminder of the importance of acceptance, diversity, and love. It brings together individuals, organizations, and communities to advocate for LGBTQ+ rights and celebrate the progress made towards a more inclusive society.
Prepared by Mary Ann Robinson
---
Sources: