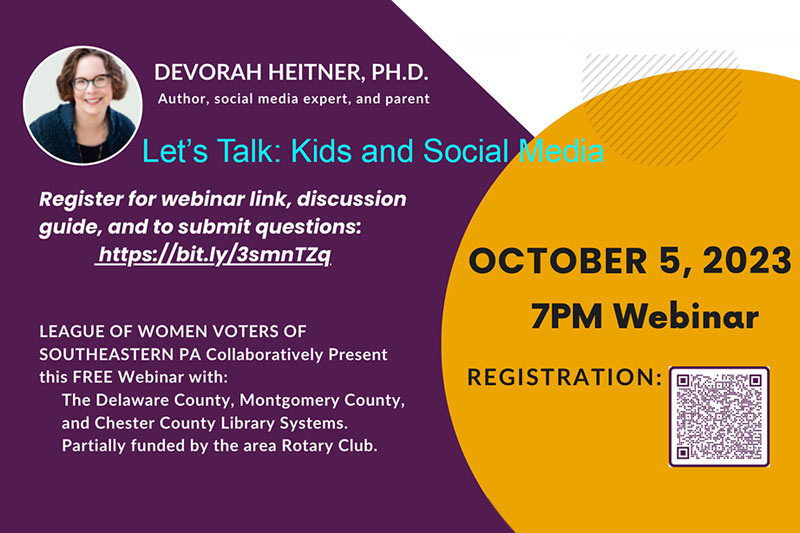 Do you notice that people rarely talk face-to-face? We text to connect. We meet via Zoom. We hold virtual worship services. We share our photos on Instagram. We post what's happening in our lives online. We view viral videos on TikTok. Who knows what X and AI will bring?
The lack of conversation is troubling. Dialogue is important. What can be done? Area members of the League of Women Voters (LWV) are concerned. Social media has changed the playing field not only in political campaigns but also in our daily lives. As an organization designed to promote civic responsibility and active participation in government, this is an issue that cannot be ignored nor addressed in a vacuum.
Thus, the League of Women Voters is working in collaboration with our library systems in Delaware, Chester, and Montgomery Counties to begin this discussion with "Let's Talk: Kids and Social Media." This event is partially funded by area Rotary Clubs.
Devorah Heitner, Ph.D. will provide a free webinar on October 5th at 7:00 pm that is designed to prompt conversation about navigating social media and help answer the questions:
How can we keep our youth safe on their communication devices?
What should be made public and what should be private?
What does it take to thrive in a digital world?
How does social media impact relationships and a sense of self?
Why is it important to help our family become screenwise?
Devorah Heitner's earlier work, Screenwise: Helping Kids Thrive (and Survive) in Their Digital World, guides parents to help their families develop healthy tech habits. In addition to her books, Devorah is the founder of "Raising Digital Natives." She has her own blog and provides free email courses on topics such as "Phonewise." She even has free SOS Guides with tested advice and sample scripts on "Sexting and Damage Control!"
Organize a Watch Party – Stop fretting alone. Join with others – your family, your friends, your neighbors, your classmates, your book club, your pickleball partners. A watch party could be in your library, home, school, place of worship, social club or pub. While watching and listening is an important first step in learning, talking with others about what you've learned or experienced can will help make a difference. Social media is not just a personal issue. It can be a mental health concern for all ages and stages. Conversations can help us support one another and our youth.  
Keep the Conversation Going – Libraries are a public source for community conversations. They offer focused discussions and facilitated book groups. They have copies and sets of "Growing Up in Public: Coming of Age in a Digital World" for you to read and share with others. Study guides are even available!
Talk about what you've seen in the webinar, what makes sense, what works and what doesn't work to navigate social media issues. Start the conversation within your family – your spouse, your parents, your children. We are all part of the solution to the social dilemma.
The webinar is FREE. You MUST register at https://bit.ly/3smnTZq to receive the link to this live-streamed event via your email.